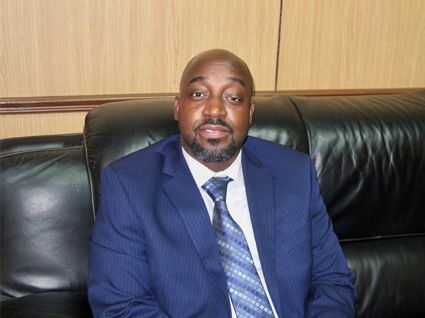 08 Jul

Interview Hon. Eng. Brian Mushimba, Minister of Transport and Communication, Zambia

Q: During President Lungu's State of the Nation Address in March 2017, he called for a national transformation. Accordingly, the 7th National Development Plan 2017–2021 was approved in June. Zambia's macroeconomic objectives include accelerating the diversification of the economy, particularly towards tourism, energy, mining, agriculture and agro processing. As both transport and communication have a key role in any nations development, what is the key role you envision your Ministry to have in this new plan?

Our Ministry is an enabler of a lot of these initiatives and agendas that the president has spoken about, specifically with the 7th National Development Plan. Without efficient and robust transport- and communication networks, there would be no growth at the level that we envision. There would be no economic activities at the level that we envision. At this level, our ministerial mandate is to understand the vision of His Excellency and the vision of the party – this mandate was, of course, received from the people and is for the people. We understand this very clearly and therefore we must craft policy to address this. What we have been doing in crafting this policy direction, from the Ministry, is to create and craft this vision. The vision of the President for our Ministry is to, by, roughly 2030, become a hub for transport and communication. As Zambia, we have many geographical advantages. We are very centrally located – the fact being that, with only a two hour-flight, you can reach many parts of Africa.

Politically, we are very stable. We are a democratic country, with peaceful transitions of power and stable governments. All these things speak of the great value of Zambia. We now need to realise this vision, we need to build Zambia towards becoming this hub by 2030. We are investing heavily in roads, road-networks, waterways, railways; and aviation – we are greatly upgrading the airports and airstrips throughout the country. We are also greatly investing in communication. We have crafted and approved new licensing regimes, allowing for more competition in the industry. We are streamlining the bureaucracy around the licenses that can be obtained within this industry. We are advocating for infrastructure holding companies, held in part by government and private hands. We are aiming to support services for communications infrastructure, from within the space of this centrally-held holdings company. We want the infrastructure to be there to allow for anyone to set-up a telecommunications-services company within the already, state-of-the-art network. The networks must be efficient, modern and readily available for all of Zambia. We are greatly in favour of modern competition practices. We want to ensure best-practice values, allowing for healthy competition in Zambia and the SADC-region.

Q: The Fourth Industrial Revolution will surely bring benefits but will also have challenges. Klaus Schwab, Chairman of the World Economic Forum stated, the response to it must be integrated and comprehensive, involving all stakeholders, from the public and private sectors to academia and civil society. How smooth is the dialogue in Zambia between the public and private sector in the communication and transport spheres?

As the government, we are the link between these various players in the public and private sector. It is very important for the government to offer support to all these stakeholders. As the government, we also do realise that, we cannot do everything – we need the private sector. In fact, our only role as government is to create an environment wherein businesses can thrive in. We, as the bearers of the President's mandate, have been very clear that we want to facilitate and enable the private sector. For example, the other day, I met the executives of Vodafone. Between them and the regulator, there had been some difficult conversations and they were struggling to find middle-ground. They reached out to me and I offered my assistance. I am a government official and it is my role to be able to facilitate co-operation between parties such as Vodafone and the regulator. We cannot have a giant company like Vodafone pull out of the market, it would lead to at least 200 jobs being lost. As a government official, I should intervene. We want to, as the government, ensure revenue, employment – which ultimately leads to taxes.

The Fourth Industrial Revolution will occur on the back of ICT. We need to make sure that everyone in the country is ready to participate – the government, academia and the private-sector. All these players are ready, they are engaging and there is an understanding that this can be accomplished, when we work together. We are definitely looking for opportunities for partnerships and co-operation. All our current partnerships with the private sector, speak of the fact that the government recognises that we need to work together to create an environment for everyone to participate in.

Q: You recently said in an interview that you will "always encourage private sector participation and open many projects up for this to happen." What PPPs and investment opportunities would you like to convey to The Times' high-profile audience?

As far as PPP are concerned, we do have a PPP council in Zambia. This council evaluates opportunities – considers the feasibility of a project and considers the different stages of development of a project. I have participated in PPP councils, where we, specifically look at funding models in the railway sector. We have many projects that we are looking at, in very healthy economic zones – whether it be mining or agriculture. So too, the industrial sector is about to take-off. With communication, we have re-aligned our licensing systems, we have made it very simple and straight-forward. We have looked at some of the fees, to lower the costs of doing business and interest barriers.

For the British readers, who may be looking for an avenue to invest, this is one of the markets that I believe they should consider. As a government, we are very much in favour of FDI, we offer as much support as we can; our banking sector is very strong in Zambia; we have a solid legislation that is investor friendly; we are a stable and secure county; you can easily get your money out if- and when you want to get it out. We are also busy with many ground-breaking projects, that will have very good returns on investment. We are busy with major projects, for example in the Great Lakes region, our transport-system has ensured that we can easily trade in the region. We are looking at expansions along the lines of an inland port at Nsanje. We are looking for an investment model, where we can work alongside investors, to build and develop these kinds of transport systems. We recently signed a similar PPP project with an Austrian company, to ensure automated- and advanced traffic systems in Zambia. We will be adopting smart innovations and technology, in the planning of our traffic systems. It will be a US$200 million project. They will invest the money and build the infrastructure; and within the specifications of the financial plans, within 17 years, they will have recovered all their money. They will then transfer the infrastructure into the hands of the government.

There are many developmental projects we are appealing to foreign investors to recognise the opportunities that Zambia has to offer. Foreign investors, particularly in the West, have now realised how fantastic FDI in Zambia is – they are truly cashing-in on their investments.

Q: When it comes to railways, we know that Zambia wants to link to Nacala Corridor, the Northern Corridor, even up to the Port of Lobito in Angola. As an investor, speaking of industrialisation, if I set-up a factory here, will I be able to reach neighbouring countries. How advanced are these plans, in order to make it happen?

Zambia has the goal of becoming a regional hub and one can say you are a hub if you have a very good and efficient railway network, roads, water transportation and aviation. They must all be interlinked. If I'm, for example, transporting fertilizer by road, that road needs to take me to the seaport, so that it can be shipped from there. Or, if I'm flying it out, the road must take me to the airport. The projects that we are executing are the projects that are speaking to that. Speaking of these corridors, Nacala Corridor – we are very active here, building a modern, high-speed railway line in partnership with the Chinese. We recently secured the funding arrangements, completed the feasibility studies and ensured that all questions have been answered. We are very excited about this project and it will start soon. This will be the shortest way from Zambia to a seaport.

We are busy with many similar projects. We just finished discussions, in Cabinet, to start on a railway in the North-western region; which will move from the Copperbelt to Jembe, which will go to Lobito Port in Angola. There are a lot of mining activities happening in this Northern part of Zambia. This was a private-driven project and struggled to take off, but now, with the collaboration of the government, it will be able to start. This is a tri-country project between Angola, DRC and Zambia. These governments weren't willing to deal with the private sector and so we, as the Zambian government, took the initiative and the risk, bought shares in the project; and now, it has started. There are many other corridors that we are looking at including Kafue-Lion's Den and Livingstone-Kazunga. All these inter-model projects that we are busy with, speak to what you mentioned – if someone sets up a factory in Zambia, now, the modes of transportation will be there for them to easily move their projects around.

Q: As a final question, you are bringing a different approach to the Ministry, as an engineer coming from the private sector. How is this affecting the way in which you approach your position? Since you are also the ICT Minister, to quote Steve Jobs, "the distinction between a leader and a follower, is innovation". What is your leadership-style, to get all these projects done?

When I was appointed by the President into this position, the exact words he used were, 'you come from the private sector, with a private sector mind-set and private sector efficiency, we need that in government'. I was placed within a Ministry that is very strategic, very powerful and very influential for economic development. I have been here for a year and if I look back, I realise that my background has served me well. My engineering background lends itself to a lot of critical-thinking and critical-analysis. I am able to work alongside my team and make difficult decisions, based on a forward-thinking and innovative mind-set. I have removed a bit of noise in some of the decision-making, making sound decisions anchored on facts. I tend to ask many questions, once I ask these questions, and so I believe we make decisions that have been well thought out. I believe people can look at the decisions that we take and say that a lot of thought went into making them. That is the leadership style that I bring to the table – it is consultative, exhaustive and always being forward-thinking. I do believe in healthy competition, streamlining current bureaucracy and allowing for easier participation by everyone. I believe if we lower, for example, the entrance barriers in ICT, we will truly unleash the potential of Zambia and enter the Fourth Industrial Revolution. We are seeing a lot of talk around networks being expanded, investments happening, services improving, thanks to healthy competition. And so, my time is well spent.