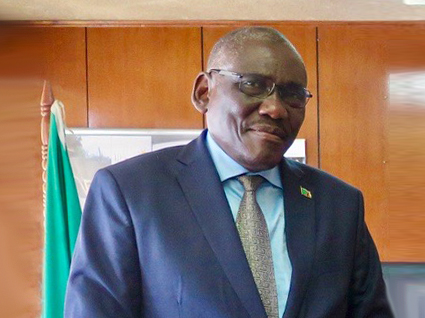 08 Jul

Interview with Hon. Charles R. Banda, Minister of Tourism and Arts, Zambia

Q: During President Lungu's State of the Nation Address in March 2017, he called for a national transformation. Accordingly, the 7th National Development Plan 2017–2021 was approved in June. Zambia's macroeconomic objectives include accelerating the diversification of the economy, particularly towards tourism, energy, mining, agriculture and agro processing. You also said that, if well positioned, tourism should become the next key source of economic growth. What is the role you envision the tourism sector will have in this new Zambia, and how will it also be diversified under your mandate?

CB: You are right, in March the President did speak about having a transformational agenda, and there was an instruction that it is no longer business as usual, that we have to change the way we approach issues, especially if we are going to speak about bringing development to this country. The development we are looking at is creating wealth, and to create the much needed jobs.

In this plan, the President has marked tourism as one of the key sectors for Zambia´s socioeconomic development. We believe that tourism is a crosscutting sector. If well developed, it will bring the wealth we are looking at and it will lower the unemployment rate. There are a lot of activities interlinked to tourism; it will also generate indirect jobs in hospitality, and agriculture or infrastructure, to feed the tourists or with the constructions of new airports and roads.

In line with this transformational agenda, you have to know that tourism in Zambia was a sector that was only contributing about 2.5 – 4% to the GDP, it was seen as a social Ministry. But now this has changed, we are a business Ministry, we want to contribute to the country's income and with the President´s plan we expect to contribute about 10% to the GDP. We are now the third most economically important sector, after mining and agriculture, but we have classified tourism as the second most important sector after agriculture for the future.

We are also trying to collaborate directly with the private sector to identify what are the key interest areas in the country and create an attractive product to increase both local and foreign tourism. Tourism in Zambia is centralized in Livingstone, in the Victoria Falls, but we have much more to offer. For example, we have 20 national parks and only 3 or 4 have been popularized. We need to develop tourism as a country, not only Livingstone as a region but spread the offering around the country.

Tourism in Zambia is a sleeping giant that we need to wake up!

Q: Developing the tourism sector is not a responsibility meant for the Government alone. How smooth is the dialogue between the public sector, the private sector and the civil community in Zambia's tourism industry?

You are right, it´s not only the effort of the government but also the responsibility of everyone to collaborate in order to develop the tourism sector. Tourism in Zambian hasn´t yet developed due to the fact that we don´t have the proper infrastructure to accommodate large numbers of tourists. We need the private sector to build the infrastructure, the hotels, the airports… We have incentives for all of those who want to come and invest in tourism. We aim to keep tourists in Zambia for more days; we have the capacity, we just need to add value to our product. We are also developing a tourism strategic plan that is going to include also ecotourism and cultural tourism, as Zambia is one of the richest countries in cultural heritage with 73 tribes with diverse cultural traditions.

QThe Government is doing great efforts to enhance the ease of doing business and to improve Zambia's investment climate, having being ranked among the top-10 best African countries for business. How would you describe today's investment and business environment?

We have been working in improving the investment climate in the country along with our colleagues from the Ministry of Finance and the Ministry of Commerce, Trade and Industry. We are also working on a Single Licensing System to reduce bureaucracy and costs, in order to facilitate foreign investor to come and establish in Zambia.

Q: Zambia was elected as Chair of the Executive Council of the World Tourism Organization for the year 2019. What would you say is Zambia's leadership role in the sector's global development?

Zambia has classified tourism as the second most important economic sector after agriculture. Globally, tourism is also one of the key sectors for social and economic development, for the creation of wealth and jobs. It is now number 3 after chemicals/oil and agriculture. There is an estimation of 1.2 billion travellers per year worldwide, generating about 1.3 trillion US dollars. What we are saying now is how the distribution is being done, and here is where the WTO comes in, to ensure that we are promoting tourism as a world economic sector, in which everyone should participate in as long as you have what it takes to put on the table to create interest in people to visit you. China as an example has 120 million outward bound travellers per year, but we are just receiving very few in Zambia because we are not doing enough marketing of our country. There is market to operate; we just need to take advantage of organizations like the WTO, which provides with ideas, plans and marketing tools to reach out to all these travellers and get an equal share of all these tourists moving around. We are working hard to get the infrastructure and the connectivity necessary to increase the number of tourist in our country. We are working also on bringing our national airline back, which undoubtedly will help.

Q: You recently said the Government knows the level of funding for tourism marketing was below that of most regional competitors and that the government has started addressing the problem. Bearing in mind that the UK is Zambia's second biggest market, where would you like to see a stronger cooperation between both nations?

We want to tell to our colleagues in the UK that they have a second home in Zambia. Britain has a history in this country from 1924 till nowadays that we still have strong ties between both countries. We have a heritage and a history together and are part of the Commonwealth. Colonization started because the interest in our natural resources, now they have the responsibility to give back, we now encourage British investors to come here to invest and help us develop.

Q: If an investor or tourist would ask you, with which concepts would you like them to associate Zambia with and why Zambia?

Zambia is a peaceful country that enjoys social and political stability. Our elections are fair and free, President Lungu is our 6th president, and they all came to power thought the ballot. We have a strong rule of law, investor can invest without being afraid, and our constitution protects Zambian´s visitors, investors and their freedom. We also have stable exchange rates meaning that investors can easily predict their profits and benefits.