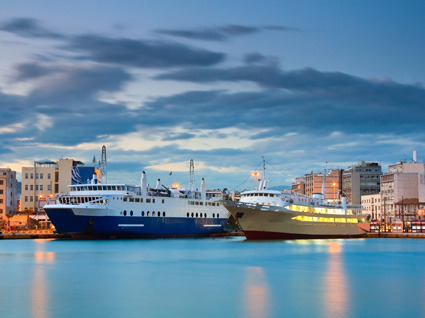 06 Jul

Interview with H.E. Mr. Christos Spirtzis, Minister for Infrastructure and Transport, Greece

Q: From a macro perspective: How would you assess the current perception that foreign investors have today regarding Greece as an investment destination and what your impression is of this dealing with investors coming from abroad? Also Greece's performace this year – Sir in your opinión, what key lessons have been learned during these challenging years? In your opinión, is the Greek economy now better equipped to resist global economic shocks?

H. E. Mr. Christos Spirtzis: What we have learned so far as far as the recession is concerned and why we are here (in this economic position), is that this is not basically Greece's problem but is a greater and wider problem for the whole of Europe. A great and productive part has already left Europe and the result of this is that instead of producing wealth we are just consuming. And this situation with not being able to produce but only to consume – this situation has brought a bad economic situation not only to Greece but to the whole planet and this has a direct influence on the banking system and employment. So, in this international environment of competition we have to be able to have international law and comply with international law in order to have global competition. And these rules and regulations have to be applied in the internal part of Europe. So, you cannot have an economic association that does not have mutual economic procedures in the whole of Europe. We have countries that lend to businesses with 0% interest and others with very high percentage of interest. We have countries with a great surplus due to this lending from these other countries and other countries where deficits are created due to the same lending. We have countries such as Greece who bear the cost of this bad economic situation – we are taking the burden of the bad economic situation.

We have to deal with an uneven economic situation. There is also the immigration problem as we are in between the borders of Europe but also the East. We have to have stable forces as far as North Africa, Turkey and the Middle East are concerned. We have to secure a great part of the environment and the cultural inheritance while other countries have made sure that they have destroyed this environment or culture in order to have a better economy. For example, Santiago – your country – Spain – there is infrastructure for tourist resorts and all of the coast has been over constructed with housing but in Greece because of this European law and our constitution – we protect this environment (our shores). For all of the above reasons, we need to change the framework – we do not have this framework because the powerful countries of central Europe do not want the whole of Europe to benefit – they only want to benefit themselves. So this all made it even more difficult for Greece to exit the recession and stand on its own and so the Greek people had to sacrifice a lot as far as health, education, wages, pensions etc are concerned.

This is dogmatically a wrong situation in Greece and Europe. So, the conclusions from all of these lessons of history from all of this is that Greece should have production in order to produce wealth, to depend less on the central countries of Europe and to be able to fight for the 'Europe of the Peoples' and not the Europe of the few. We should move forward the logic of Europe and not of Germany. Portugal and Ireland have the same size of economic problems too. We can also see that Italy has an even worse economic situation than Greece but it was not dealt with in the same way. Because if they dealt with Italy the same was as they did with Greece or Portugal – we would have a war right now or the dissolution of Europe.

Let's talk about the first part of your question – according to the conclusions that we already have – we have already corrected all the wrong things that existed in this country, not only as procedures but also as planning is concerned. It is not possible in a country like Greece with its geostrategic location not to develop infrastructure and transport because of all the connections – the geopolitical place that Greece has on the map. So we have completed all of the highway works – with the PPP (Public Private Partnerships). We are continuing with the concession basis with the port of Piraeus which has already brought a lot of investment and cargo shipping has also developed. We also have the port of Thessaloniki and also the railway works are being completed such as the Patras to Thessaloniki and Athens and Thessaloniki are concerned. There is a call for a tender for Thriassio which is going to be the biggest project in the country. In 2018, there will be tenders for the port in Thessaloniki (logistics) and there are plans for a further 5 more cargo centers to be implemented at the ports of Kavala, Alexandroupoli, Volos, Patras and Igoumenitsa.

Our target is to have all of these ports to be connected with the railways – they are already connected but we want them to be upgraded. We have already reached a close co-operation (deal) with Bulgaria and this is supported by the European Committee in order to connect the Black Sea ports with the ports of the Aegean. This gives a great advantage to the international railway transport because the load of the cargo has increased immensely after the opening of the Suez Canal. We also have the Silk Road initiative (Chinese – one belt one road initiative) – from China to the countries of the Black Sea. Unfortunately, with the Dardanelles – we have great delays as far as cost and time are concerned. So, all of the international transport needs to have an alternative route from the Black Sea to the Mediterranean Sea. We would like to have a connection (cargo transportation). Besides the Black Sea countries – we want to have the inner part of the Balkans and Europe. So, our priority is for north of Greece to be connected and the railways to be connected with the 3 ports in north of Greece with the Black Sea, with Serbia, Romania and Bulgaria (and Central Europe). So it is very important and very easy for Greece to be a cargo crossroads in order to have these connections. The greater part of all of this infrastructure has already been constructed and the part in north Greece has been studied in a great percentage, so the next phase is to have again the PPP planning in order to complete the works.

Which of these projects, Your Excellency, do you think are best suited perhaps for British firms? Are there any particular ones that you think could be most interesting?

H. E. Mr. Christos Spirtzis: Great Britain is a great country as far as the sea ways are concerned and also the culture of Great Britain is also great (other countries do not even have although they are big enough) though strategically I think that companies would be interested in ports and logistics. Regarding airports, we have a tender for an airport in Iraklion which is almost completed and we are planning 2 more tenders, similar to the Castelli airport – one is for the airport in Alexandroupoli as a cargo airport (besides the passengers). The other tender is the airport in Kalamata. There is also planning for a smaller airport in the Cyclades (for the smaller islands of the Cyclades). An important part for passenger transports is the water airports such as hydroplanes (ports for hydroplanes) and this will connect hundreds of smaller islands in the Cyclades and also includes the Ionian and Italy and also the north and south Aegean (Cyclades and Dodecanese) between and with Turkey. These actions are going to be implemented in 3-4 years and are great business opportunities especially what has to do with combined transport and tourism. Besides these actions, our concern is to have more actions for ???? In the cargo centers of Piraeus and Thessaloniki that deal with industry cargo products for example at the Venizelos Airport in Athens, we have an extension of the contract there at the airport and we have sold out of the 30% of the Venizelos Airport. It is an ideal place there to construct and assemble aircrafts (this has been closed for 20 years now). Our target is to approach airlines now in order to have a maintenance space and to co-operate with the Public Infrastructure Sector (EAF – Greek Airplane Industry) on the PPP basis as well. We would also like to attract the educational institutions in order to have the know-how as far as the Thriassio project is concerned and the Thessaloniki port and the logistics is concerned for the safe production of high tech and state of the art products.

Another category is the public transport. Regarding the new lines of the metros in both Athens and Thessaloniki – we are still in discussions with the European Investment Bank in order to have a renewal as far as the new buses are concerned. In this framework, the Greek industry of buses can be used which is in the privatisation phase at the moment and it is another business venture to take as an opportunity because Greece needs more than 2,500 buses. They will have the technology of Euro 6 and Euro 7 and be electrical as well – so here is another business opportunity and is a motive for construction companies as well and for companies to settle in Greece in order to have this production. There is also something very interesting that I would like to add – it is something that is in fashion generally on the planet, but it is not the only one. One of the great problems that our planet has is food and water. In Greece and in Spain we have almost the same climate conditions where you can produce/grow all the vegetables you need on your own balcony. In all of northern Greece we have a geothermal problem (hot water from the earth – a global source of energy). If we carry out the infrastructures we can do this for Greek houses and manufacture for them with very low cost of energy. This will tap the geothermal energy sources and take advantage of our sources. This is very good for Europe. If you go to Arab countries – you can see that they have many deficits such as water, fruits and vegetables…

We are aware that a top priority for Greece right now, and one that can draw in the necessary investment to have a transformational effect on the economy, is the HELLINIKON project, Europe's biggest ever real estate development project. Mr Spirtzis – share with us the actual scope of this Project? What is the status of this Project? Do you see it beginning soon enough and here clearly there are many opportunities as well?

H. E. Mr. Christos Spirtzis: The investor has no reason not to start the investment unless he does not have the money to do it. Our planning is to have more projects such as HELLINIKON though on a smaller scale and budget that the international markets can absorb more easily because HELLINIKON is a project of 7 billion. So, in many parts of the country there can be some equivalent projects. Other activities can have commercial and tourist infrastructure. In big urban areas and archeological sites (I will give some examples) – there could be a new port in Katakolon for cruises which is close to Ancient Olympia (only about 30-40 kilometers away). In this same area you can also develop other things such as hotels and other facilities that have to do with cruises and hospitality. We are looking to do the same thing in northern Greece.

Minister Spirtzis, through this interview, you have the attention of the Britain's business and investor elites: Perhaps to concluye, and on behalf of the Ministry of Infrastructure and Transport, this is your opportunity to share a powerful message with the influential readers of The Times?

H. E. Mr. Christos Spirtzis: People should be informed about the infrastructure and transport projects in Greece. I do not think there is something else that you need in order to come here and invest. The transport of the great and productive part of Europe to countries that have been transferred to the east has brought great insecurity to the companies themselves. A great part of this production should return to European countries (in south Europe) that provide the security and the conditions. And obviously with all of this situation that has formed/that we find ourselves in today, we have the competitive advantages and the smaller cost so we have no reason to go there.